I'm a dynamic, trained and experienced actor.
I've worked as a presenter so I can explain concepts clearly.

I've voiced commercials, office phone systems, corporate videos, explainer videos, biopics, e-learning materials, documentaries, video sales letters, apps, video games, animation, and video tours.

Lately, I've been doing a lot of real estate tour videos. (Samples available upon request.)

(I also produce and edit my own comedy podcasts, and do voices for my own films/videos.)

I'm professional, easy to work with and deliver great results.
Reviews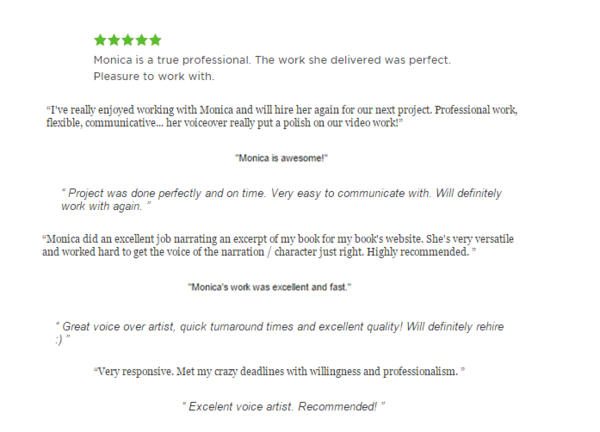 Client List
(Selected List)​
Denny's
(Announcer - Commercial, Global BC)

Subway
(Announcer - Subway Cares online ad, Hyphen Communications)

A Thinking Ape
("Alice in Wonderland"; "Wicked Witch of The West" and "Kraken" Slots Games)

Electronic Arts
("Marvel Nemesis: Rise of the Imperfects" Videogame)

Radical Games
("CSI: Miami" Videogame)

Hummingbird Swing
(Commercial, Global BC)

BC Denturists
(Commercial, Global BC)

Kaiser Permanente Medical Centre
(Hospital Video Tour)

SuperRewards
(Telephone System Voicemail Prompts)

Sweet Home Vacation & Orlando Villas 411
(Telephone System/Voicemail Prompts)

EntertainME
(Documentaries/biopics on "5 Seconds of Summer", "Jennifer Lopez", "Kylie Minogue, "Niall Horan", "The Royals" etc.)

McKinstry
(E-learning re: Workplace Safety Metrics)

Imagix
(123 Memory and other games, Children's Learning Apps)

Belatrix PC, Attorneys at Law
(Website/Promotional Video)

Spotlight Productions
("Journey Through Alzheimer Disease" - for Telus Video)

Northern Trust Company of Delaware
("What is a Directed Trust?" Video)
Contact Me
Fill out this form and I will get back to you within 24 hours.